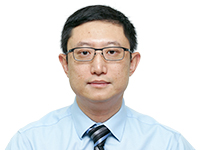 Ketian Chen
TEACHING:
0704B100 Introductory Biology
0704B101 Introductory Biology(With Lab)
0703C100 General Chemistry I
0703C101 General Chemistry I (With Lab)
Academic Career:
Nova Southeastern University
Biography: Dr. Ketian Chen received his Ph.D. in Biochemistry & Molecular Biology from the University of Miami in 2009. After completion of his degree, He worked as a postdoctoral research fellow in a joint appointment at the University of Miami and Miami VA Medical Center from 2010-2013. In the summer of 2014, Dr. Chen joined the Halmos College of Natural Sciences and Oceanography at Nova Southeastern University, Fort Lauderdale and was appointed as a faculty member in the Department of Chemistry in 2016, while maintaining an adjunct faculty appointment at Miami Dade College from 2013 to 2016. Dr. Chen's research focused on the exploration of human bone marrow stem cells to understand the mechanisms of stem cell proliferation and differentiation and develop potential treatments to various diseases via stem cell engineering.