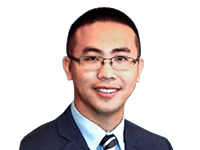 Song Wang
TEACHING:
1102A220 Financial Accounting
0201F300 Financial Management
Academic Career:
Saint Xavier University
Dr. Song Wang received his doctoral degree in Finance from University of Central Florida in 2012 and his master's in Applied Economics from University of North Dakota in 2008. Dr. Wang came to Saint Xavier University in fall 2013 and has been teaching International Finance and Introduction to Finance with Excel Applications. Dr. Wang's research focuses on security short-selling, the IPO market, corporate restructuring, etc. He has numerous publications in high level finance journals, such as Journal of Banking and Finance, Managerial Finance, Research of Finance, and Applied Financial Economics. Dr. Wang has also been a panel speaker of the SXU Economic Summit jointed by Federal Reserve Bank of Chicago in 2015 and 2016.